Bethesda UMC Worship & Gatherings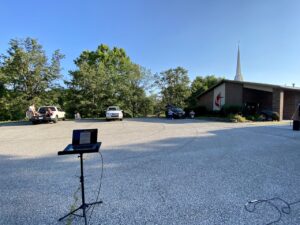 Please note the following modification to phase two of our Four Phase Relaunch Plan (image below): Sunday's "Worship on the Hill" parking lot service is moved from 7 pm to 11 am.  Therefore, our online worship experience and "Worship on the Hill" will happen simultaneously.
Worried about keeping your distance during "Worship on the Hill"?  The picture to the right may give you some peace of mind.  We park cars in every other spot.  Attendees are welcome to sit in their vehicles or bring their own chair and sit outside.  An outdoor PA system broadcasts the sound so that everyone can hear.
At this moment, Bethesda Preschool intends to have class in a traditional format.  Though space is limited, they are still accepting applications for the 2020-2021 school year.  Click here for more information on Bethesda Preschool.
Though our preschool is not public school, we do our best to abide by the recommendations and guidelines of the West Virginia Board of Education.  Bethesda Preschool is taking extra precautions this school year to separate students and ensure the healthy and safety of all involved.  For more information, we invite you to contact us.