September 9, 2020
"Thank you" to all of you who graciously serve in officer roles for our church!  For many of you, this is not your first time as a church officer.  Click here to view the officers for 2021.  To protect the sensitive information of the officers, access to this form requires a password.  To retrieve the password, please contact Pastor Bronson.
August 27, 2020

Charge Conference season is upon us!  Though this year continues to be unique in various ways, Charge Conference is a helpfully essential part of our church's diplomatic structure.
Charge Conference is a time for us to analyze the ministries of our church and set goals for the coming year.  With the help of the West Virginia Conference through our District Superintendent, we can plan a positive direction for our church community.  This year's Charge Conference will take place on September 20 at 6 pm through Skype.  All professing members are invited to vote, and all are invited to tune in.
Skype is a great program for those that are not so tech savvy.  By invitation, you may be added to the audio of the conference call via your landline phone!  If you wish to attend Charge Conference and tune in via a landline or mobile phone for audio only, please contact Pastor Bronson.
COVID-19 Update: Four Phase Relaunch Plan
August 22, 2020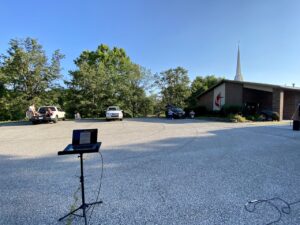 Please note the following modification to phase two of our Four Phase Relaunch Plan (image below): Sunday's "Worship on the Hill" parking lot service is moved from 7 pm to 11 am.  Therefore, our online worship experience and "Worship on the Hill" will happen simultaneously.
Worried about keeping your distance during "Worship on the Hill"?  The picture to the right may give you some peace of mind.  We park cars in every other spot.  Attendees are welcome to sit in their vehicles or bring their own chair and sit outside.  An outdoor PA system broadcasts the sound so that everyone can hear.